ENGAGE
Abandoned
Send a personalised reminder or a tempting offer when a customer adds a product to their basket but leaves your website before completing the purchase.
ALERT
New Product
Let customers know the moment a new product lands in your store that they might like. You can even add a QR code to take them straight to the product listing.
ENGAGE
Wishlist
Get in touch when someone adds a product to their wishlist. Send a Zap to follow up with more information and let them know they're making a great choice.
ALERT
Local event
Send a personal invite to customers when something's happening in their neighbourhood. A well-timed Zap can help make sure your next event is booked out.
REWARD
VIP customer
Surprise your best customers with a note of appreciation. Send them a personal message on the run-up to special occasions, include a perk just for them, or say a quick hello.
ALERT
Price drop
Everyone loves a bargain. Let customers know about discounted products they are ready to be snapped up and end of season sales they won't want to miss.
REWARD
New customer
Make a great first impression with a personalised Zap when someone signs up or makes their first purchase. Turn a one-time customer into a loyal brand advocate.
ENGAGE
Lapsed customer
Keep in touch and remind lapsed customers that you're still around. A single Zap is sometimes all it takes to welcome them back as a regular again.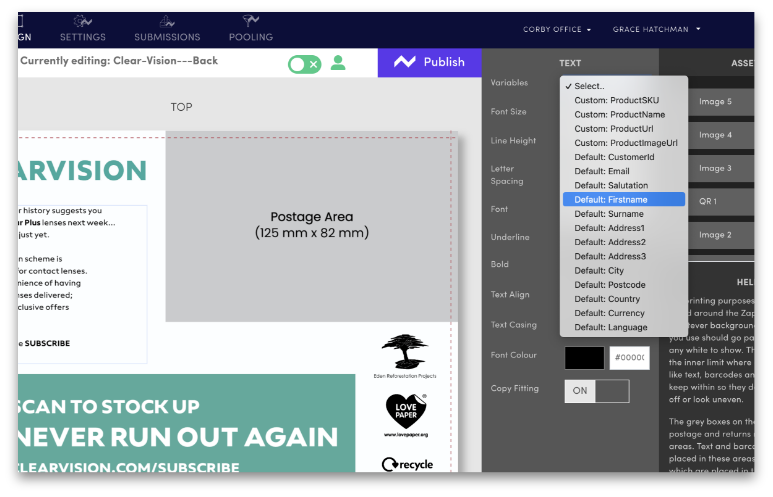 GET PERSONALISING WITH VARIABLE TEXT IN ZAP~POST
STEP 2
Customise
your design
Choose from a selection of modern templates, then customise the design to suit your brand by adding images and variables. ZAP~POST uses customer data to personalise everything from the recipient's name and the content of the message to unique discounts and QR codes. You can even A/B test two designs to see which one performs best.
STEP 3
We'll do
the Zapping
Set your budget and we'll do the rest. Whenever your customer triggers a Zap, we'll print a postcard on premium paper and post it to their door within 2-3 days. Because we print-on-demand, you can keep the messaging fresh and change the content as often as you like, plus you'll never be sitting on mountains of print that's out of date.
Connect to your customer data
ZAP~POST connects to your existing platform to share customer data in real-time. Switch on automated and personalised direct marketing in a few clicks, creating a 360-degree customer experience that begins online and ends with a postcard in their hands.




Track and optimise
your Zaps
Connect the custom promotion code or QR barcode on the Zap to your Google Analytics account. You can then track the response rate and conversions of each campaign. This provides real-time insights into response rates and conversions, allowing you to optimise your marketing spend.
Simple & flexible
pricing
See our monthly pricing plans and calculate your estimated return on investment. Get started today with a zero-commitment trial.
Pick a plan
Ready to
find out more?
Come on over to our FAQs and we'll dive into the details.